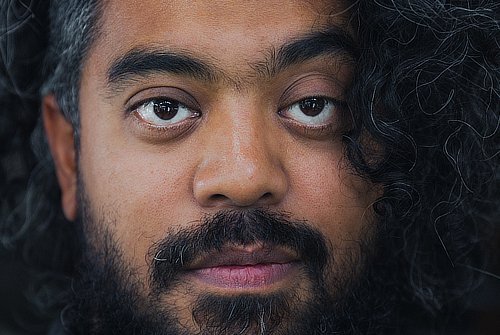 Dan Mall
Who are you, and what do you do?
I'm Dan Mall. I'm a husband, dad, designer, creative director, developer, photographer, and musician.
What hardware(tools) and software do you use?
I use a maxed out [16-inch 2019 MacBook Pro][macbook-pro] as my main computer. When I'm at my desk, I dock it to two [LG UltraFine 5K displays][ultrafine-5k] with [Audioengine A2+ speakers][a2-plus], a large [Wacom Intuos Pro tablet][intuos-pro], a [Magic Trackpad][magic-trackpad], and [Magic Keyboard with Number Keypad][magic-keyboard-with-numeric-keypad] attached.
I use a [Sony Alpha 6400][a6400] as my webcam with a [Shure MV7 microphone][mv7] and 2 [Elgato Key Lights][key-light].
I've got an [iPhone 11 Pro][iphone-11-pro], [AirPods Pro][airpods-pro], and [Bose QuietComfort 35 II wireless headphones][quietcomfort-35-ii] always within reach.
I shoot photos with a [Canon EOS R][eos-r] and a [DJI Air 2S][air-2s].
I play music on a [Yamaha Clavinova CLP-775][clp-775] and [MOTIF6][].
[Superhuman][] for email
[Firefox][] for browsing the web
[Shift][] as a wrapper for [Slack][], [Teuxdeux][], and [Pipedrive][]
[Figma][], [Photoshop][], [Illustrator][], [Indesign][], [After Effects][after-effects], [Lightroom Classic][lightroom], [Final Cut Pro][final-cut-pro], [Animate][], and [Keynote][] for design, animation, and editing
[ImageOptim][] and [ImageAlpha][] for image compression
[Visual Studio Code][visual-studio-code] for web development
[Harvest][] for time tracking
[Notion][] for note taking
[Droplr][] for screenshots
[Sip][] as a color picker
[FontExplorer X][fontexplorer-x] to manage fonts
[f.lux][] to adapt display color
[Amphetamine][] to keep my computer awake
[Bartender][] for menu bar management
[Zoom][zoom.2] to talk to people
[Loom][] to send videos
[LittleIpsum][] to copy placeholder text
[MAMP Pro][mamp-pro] for local web development
[Dropbox][] for cloud storage
[Spotify][] and [Apple Music][apple-music] for tunes
[1Password][] to manage passwords
[Numi][] for smart calculations
[HiddenMe Pro][hiddenme-pro] to pretend I have a clean desktop
[Shush][] for microphone management
[TG Pro][tg-pro] to monitor my computer fan and temperature
[Alfred][] for better efficiency
[Divvy][] for window management
[Backblaze][] for automatic backups
What would be your dream/dream setup?
I think I have all of the hardware and software I'd want, so my dream setup to be desired is more about the space. I'd like a physical space that's comfortable for working and lounging, and looks cool. Probably lots of plants. I want all my books handy a few feet away in the room. I'd like to be able to play music when I want, or film a talking head video for YouTube or Instagram.
NerdyBio is a community initiative by StatusNeo to capture the work life of interesting professionals and icons from various walks of life!!!
Want to get featured? Propose us here