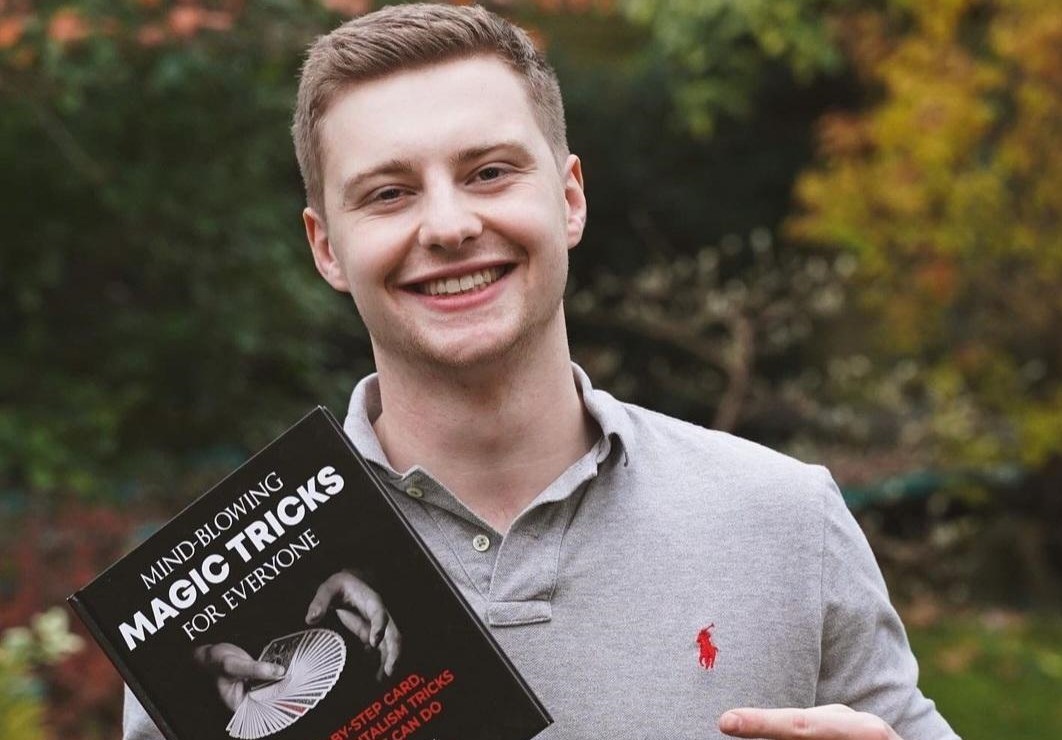 Oscar Owen
Who are you, and what do you do?
I am Oscar Owen, a magician, YouTuber and author. I have been able to share my love and passion for magic with a large and growing audience. With over 1 million subscribers and 200 million views on my channel, I am grateful for the opportunity to reach and entertain so many people. But my goal goes beyond just entertaining my audience. I want to inspire and teach the next generation of magicians. I believe that magic has the power to bring joy and wonder into people's lives, and I want to pass that on to others.
Through my videos and tutorials, I aim to share my knowledge and skills with aspiring magicians, and to encourage and support them as they develop their own unique styles and techniques. Whether it's through showcasing my own tricks and illusions, or offering tips and advice for beginners, I am dedicated to helping others learn and grow as magicians.
I believe that by sharing my love for magic and encouraging others to pursue their passions, I can help to keep the art form alive and thriving for generations to come. And that is what drives me to keep creating and sharing my magic with the world.
If you are a fan of my magic and would like to follow my journey as a magician and YouTuber, you can find me on two platforms. On Instagram, where I post updates about my life, behind-the-scenes content, and sneak peeks of my latest projects.
You can also find me on YouTube. This is where I upload my videos and tutorials, and where you can get a front-row seat to all my latest magic tricks and illusions. Whether you are a beginner looking to learn the basics of magic, or a seasoned performer looking for inspiration, you are sure to find something of interest on my channel.
So if you want to be a part of my magic journey and keep up-to-date with all my latest content, be sure to follow me on Instagram and YouTube!
What hardware(tools) and software do you use?
As a magician and YouTuber, I rely on a variety of hardware and software to help me in my day-to-day life. For my filming and recording needs, I use a Sony a7iii camera. This camera provides me with high-quality footage and the flexibility to shoot in a variety of lighting conditions.
For editing, I use two industry-standard software programs: Adobe Premiere Pro and Adobe After Effects. These programs allow me to bring my creative visions to life and to produce high-quality videos that engage and entertain my audience.
Whether I'm on set filming a trick, or in the studio editing my latest video, these tools help me to produce content that I can be proud of and that my fans can enjoy. I am grateful for the technology that allows me to pursue my passion and to share my magic with the world.
What would be your dream/dream setup?
I have a dream setup that would allow me to work in the most optimal and enjoyable environment possible. My dream setup would include the latest Mac computer, with a view of the skyline from a high-up location. I love being surrounded by the beauty and energy of the city, and I find that it inspires me and helps me to be more productive.
In addition to the computer, I would also have ultra-wide monitors that would give me ample space to work on my videos and to edit my content. I find that these monitors are incredibly useful for the editing process, as they provide me with a wider field of view and allow me to see more of my footage at once.
Finally, I would love to have a studio where I can press one button and all my cameras, lights, and sound equipment would turn on without any setup needed. This would make it easier for me to get started on my projects, and would allow me to focus on what really matters - creating great magic and entertaining my fans.
NerdyBio is a community initiative by StatusNeo to capture the work life of interesting professionals and icons from various walks of life!!!
Want to get featured? Propose us here